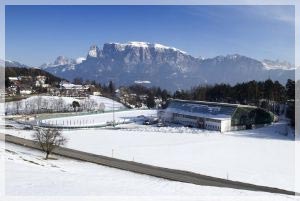 In the north of Italy on 1200 meters above the sea level embedded into the heart of the Dolomites lies the arena Ritten surrounded by a unique mountain backdrop. It is the
fastest free air ice high-speed course of the
world. Each year more and more ice high-speed runners come to Klobenstein, in order to hold there their training stock.
Technical details:
400 m outdoor artificial speed skating ice-rink
Turning radii: 26 m and 30 m
altitude: 1200 m above the sea level




Sledge / Toboggan
Natural toboggan run "Rittner Horn"
Start
: intermediate station of the cabin railway on the Schianalm
length
: 2,5 km2.5 km
altitude
: 1,908 m
difference in height
: 378 m
difficulty
: medium
ascent assistance
: yes
child-friendly run
: yes
finish
: Pemmern, valley station of the cabin railway

Natural toboggan run "Rosswagen"
Start: Rosswagen, in close proximity to Pemmern
Length: 1.2 km altitude: 1,702 m difference in height: 120 m
difficulty: difficult going time: one hour price: charge free

Natural toboggan run in a forest area with start in 1.702 m and finish in 1.582 m with an average duty of 10,6%.



Ice stock sport
Ice rink Arena Ritten at Klobenstein


Hiking in winter
There are numerous hiking paths in winter, many of them are freed from snow by snowplows.
Who rather walks through untouched, snow-covered landscape, finds numerous possibilities at the Rittner Horn.