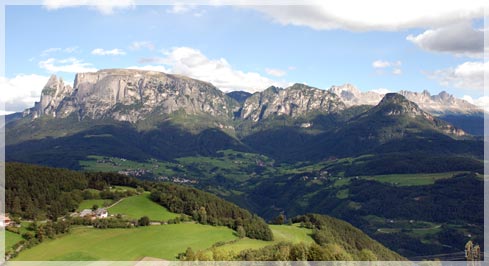 The Ritten (Renon) high plateau, located in the heart of South Tyrol, expands over an area of 111 square kilometres.

The Ritten, local mountain of the provincial capital Bozen/Bolzano, is a popular tourist attraction for hikers, families and loners.
Holiday tradition par excellence and serial scenic beauties expect lovers of this climatically special place, which has always given inspiration and recovery to artists and philosophers.
The highlights of the Ritten are given by the different altitudes: In the valley area over Bozen it is possible to practice winegrowing till a sea level of 1000 m, whereas in the highlands there are mostly wide forest- and feedlot-landscapes. At an altitude of 1.500 m the landscape changes into an alpine one with its typical landscape and vegetation.
The Ritten is the ideal holiday paradise for hikers: from here you have a wonderful outlook on the magic world of the Dolomites, which on the south side of the elevated plain presents itself by its most beautiful side.
Ritten Train
The Ritten railway opened its service on August 13th 1907. At that time it connected the main square of Bozen, the Waltherplatz/piazza Walter with Klobenstein/Collalbo, making Ritten easily accessible for tourism.
On the Ritten high plateau, the railway preserved itself until today and runs at hourly intervals between Klobenstein and Oberbozen/Soprabolzano. And this happens the whole year over!

[more...]



Ritten, a hiking paradise in the Dolomites
350 km hiking trails - 360° experience
Where the hiking is an experience for the senses, the mind and the body can find tranquillity and recovery. On the Ritten plateau families with children find their trail, just as well as summiteers. That's because the net of our hiking trails goes from sunny vineyards over bloomy grassland and forests up to alpine mountain pastures und alps on an altitude of over 2.200 m.
[more...]
Walking through deep-snow-covered winter landscapes
Only the quiet crunch of the snow interrupts the silence of nature. Snowshoe hikers can enjoy the magic of the white winter landscape offside of the hustle and bustle of the skiing centers.
Walking softly and secure through the fresh snow - a very special nature experience...

[more...]