On Freud's traces
"… Ritten is beautiful , comfortable and divine… "meant Sigmund Freud during one of his stays in Klobenstein. The hiking way between Klobenstein and Oberbozen, "the Freud promenade "reminds of the 20th century genius.


Hexenbödele above Lengstein
In the forest above Lengstein lies a small clearing. Here stands a larch with witch broom. In former times witches met here, in order to dance with the devil. Once a young boy wanted to prove his courage and watched the witches dances at night. The next morning he was found rammed to death into the ground. In memory of this tragic event a crucifix was hanged on the larch and witches no longer meet here. How to find to the Hexenbödele: from Maria Saal follow the way in direction Lengstein (marking No. 8 red knows). Continue to follow way No. 8 and you come directly to the Hexenbödele.


In Wolfsgruben in Ritten stands the Plattner yard, one of the oldest barnyards in the area. In the inner yard you can still see how farmers used to live in the past and you can learn everything you should know about bees. Actually in the barn yard shows the biggest collection of south Tyrolean apiary and provides all the information necessary to make you understand and appreciate the extraordinary world of bees.
Opening hours:
from Eastern until the last days of October, daily from 10 am to 6 pm.


In the old walls of the castle Sigmundskron, completed with a modern structure made by glass and steel, Reinhold Messner tells about the importance of the mountains for the entire humanity. Mountains can bewitch humans and that is, what Messner's Mountain Museum in Firmian wants to suggest.
Opening times:
from March to December 24th, from Tuesday to Sunday from 10 am to 6 pm. In addition many evening and special meetings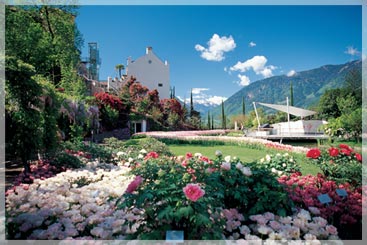 Also Meran is worth a trip, an expecially interesting trip is the one to Schloss Tyrol which was the castle of the counts of Tirol. They gave their name to the country. The uniqueness of the castle is given by its medieval architecture, which goes back to the 11th century.


Did you ever visit the Meran Thermal Baths?
Whenever you organize a trip to Meran you should absolutely visit the castle of Trautmannsdorff. In it you can find the Touriseum, a museum about the history of tourism in South Tyrol but above all you will have the possibility to visit the incredible gardens with their innumerable blooms.